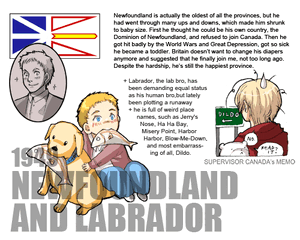 An old soul in a young body
THE CANADIAN PROVINCE OF NEWFOUNDLAND AND LABRADOR
Edit
Name: Benjamin O'Reilly
Joined the Confederation: March 31, 1949
Gender: Male
Official Languages: English
Motto: "Quaerite primum regnum Dei/ Seek ye first the kingdom of God (Matthew 6:33)"
Close Relations: Canada (Matthew Williams), England (Arthur Kirkland)
The iammatthewian Voice Actors: Keasuke, Anime Duchess
PERSONALITY
Edit
Write the second section of your article here.
RELATIONSHIPS/ RIVALRIES/ AFFILIATIONS
Edit
Ad blocker interference detected!
Wikia is a free-to-use site that makes money from advertising. We have a modified experience for viewers using ad blockers

Wikia is not accessible if you've made further modifications. Remove the custom ad blocker rule(s) and the page will load as expected.