Name:
Rhinocio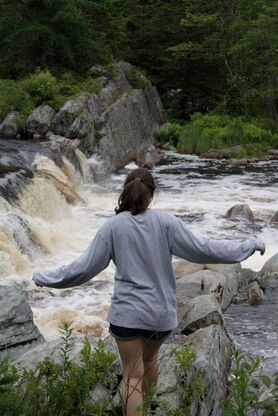 Nicknames: Rhin, Nova, Brudder, Leah
Location: Waverley, Nova Scotia
Birthdate: January 10th
Occupation: Main voice of Nova Scotia, backup for Canada.

Rhin lives in, voices, and is in love with the province of Nova Scotia. Is French, Acadian, Scottish, and Welsh in blood, spent a good chunk of her childhood in Cape Breton, and has a funkyarse way of talking that involves abuse of the letter D and the sound "ah", both of which today's episode was brought to you by. Originally auditioned for the role of Canada and got the backup-backup position; when she saw that the part of Nova Scotia was still open she knew she needed to claim the role and help assert some truths about The Maritimes. Currently she is the only Maritimer in the entire cast.
Has a grudge against Alberta because he keeps stealing Bluenosers. And because Kea likes him better dispite Halifax having the same Cows ice cream. And because cowboys make her nervous.
Is working on her second-language skills. Prefers Québeqois French to France French.
D'hoasd.
Is slowly but steadily becoming a world traveler... and yet still gets lost in Halifax.
Has an unhealthy addiction to maple.
Severely influences the speaking habits of the cast and crew.
Squirrels are about the only animal that creep her the hell out. Is terrified of Toronto's parks because his squirrels are massive.
Everyone is a bro.
Gets extremely upset at loud noises. Especially screams.
Has met Molly IRL.
Tends to stop in front of the lobster tank at work and make sound effects.
Ad blocker interference detected!
Wikia is a free-to-use site that makes money from advertising. We have a modified experience for viewers using ad blockers

Wikia is not accessible if you've made further modifications. Remove the custom ad blocker rule(s) and the page will load as expected.